Are you ready to help share Qigong for the benefit of others and make some money with the simplest, most direct and effective Qigong Home Study Course on the Internet?
There's nothing like the Qigong Secrets Home Study Course out there.
And for every sale made from friends you send to the Enjoy Qigong web page, we pay you through ClickBank (the Internet's largest and most trusted digital marketplace) 75% COMMISSION
And you help me to raise the profile of Qigong.
Because with your help we can make Qigong as popular and well known as Tai Chi and Yoga.
ClickBank is guaranteed to pay you twice monthly, on time, every month, as long as you make sales!
If you're a Qigong Secrets Home Study Course student you already know that it starts with a 2 week $4.95 trial. If a student continues past the 2 week trial, they pay $27 per month. Qigong Secrets is a 5 month long study course.
For every $4.95, 2 week trial of Qigong Secrets you sell, you'll get $3.71 – big deal I hear you say. But as you'll see. This is only the beginning.
Because for every person that goes on to become a monthly subscriber, you'll earn $20. And for every month they continue to subscribe, you'll earn another $20.
Remember… Qigong Secrets lasts for 5 month. That means for every friend you send that stays for the full course – you earn $100.
But I'll be honest with you, if you think that being an online advocate for Qigong Secrets is going to make you rich beyond your wildest dreams, that you'll be able to sit in your pyjamas and watch the money come rolling into your bank account, then I'm sorry, you're in the wrong place.
If you're only interested in money then your time and energy is best invested in promoting a product that: tells you how to make a million, how to be more attractive to members of the opposite sex or how to lose weight without doing anything.
Still here?
Good.
Yes you will earn some extra money and that's great (money = greater freedom in my book), but more importantly you'll be helping people to discover a simple, direct and effective way for them to live a happier, healthier and longer life.
That's what is important to me, and if it's important to you, then you're just the kind of person I'd like to have promoting Qigong Secrets.
If you're a Qigong Secrets Home Study Course student, you already know how good it is, now you can share it with your friends.
Let me show you what you need to do to get started.
Here's How You Can Get Started, FAST!
Absolute Requirement: You must sign up as a ClickBank affiliate to get your ID so we know who to pay.
Watch the short video below if you need help getting your Clickbank ID:
Absolute Requirement: You must comply with The Enjoy Qigong's Terms and Conditions for our referral program.
If you don't already have a ClickBank ID, you can get one FREE from ClickBank in less than 60 seconds. You must get a Clickbank nickname because Clickbank handles all the money side of things so you can be certain that you get what you are owed.
Once you have your ClickBank ID, you are ready to get started.
Take a look at the link below
https://XXXXXX.enjoyqi.hop.clickbank.net
What you're going to do is copy that link and swap XXXXXX for your Clickbank name.
Then all you need to do next is give your friend your special link and if they decide to become a member of the Qigong Secrets Home Study Course – you get 75% of each and every sale.
Please make sure you swap the XXXXX for your Clickbank name, this will ensure you get proper credit for all the sales you make!
Thank you for your interest in sharing Qigong Secrets with your friends and thank you for helping me in my mission to make Qigong as well known and as popular as Tai Chi and Yoga.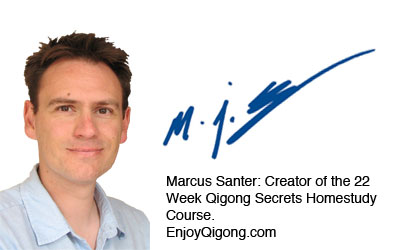 P.S. If you want to recommend Qigong Secrets and have some unanswered questions, or just want a hand please contact me.
P.P.S. – You can find full details of the material covered in the Qigong Secrets Home Study Course by visiting this page: Qigong Secrets Course Contents.